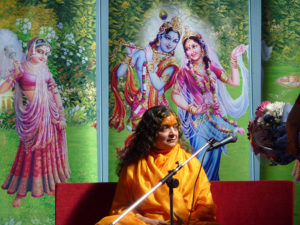 Dr. Bageeshwari Devi will discuss one of the most important subjects relevant to the age of Kaliyug.
Is mere repetition of the Divine Name a complete means to attain liberation?
What is the correct procedure of chanting to derive true benefit whilst we go about our daily lives?
Dates:
Friday 25 April 2014 from 7:30pm – 9pm
Saturday 26 April 2014 from 7:30pm – 9pm
Venue:
Shree Hindu Temple & Community Centre
34 St Barnabas Road
Leicester
LE5 4BD
Tel: 0116 246 4590
info@shreehindutemple.net
About H.H Dr Bageeshwari Devi
H.H Dr Bageeshwari Devi was born in Mysore. At the tender age of ten she was attracted by the divine personality, Jagadguru Shri Kripalu Ji Maharaj. Unknown to her at that time, Shri Maharaj Ji had chosen this devoted and blessed child as His "ambassador" to the world for awakening Selfless Divine Love in seeking souls.
Didi Ji, as she is affectionately called, has a distinguished academic career. Graduating from Bombay University, she got her Ph.D. degree in English Literature from the University of Agra, India.
At the enviable end of her academic life, Didi Ji sat at the sacred feet of Jagadguru Shri Kripalu Ji Maharaj to learn. Ordained into sanyaas by His Divine Grace, she set out explaining and expounding her Spiritual Master's message to the world at large. Her mission has taken her to different lands and people.
Music is Didi Ji's forte. She has the gift of a celestial voice and the ability to transport her audience to the Divine abode, on the wings of her Spiritual Master's devotional songs.
Didi Ji has been kindling spiritual longing for the Supreme Lord in the hearts of numerous people in different countries since 1988. She delivers discourses on the essence of Religion in a logical and interesting manner, which appeals both to head and heart.
She formed Radha Madhav Society (UK), then called International Bhakti Yoga Sadhana Society, in 1988. Her meaningful presentation of her Master's message in the context of the modern time has greatly inspired and benefited thousands around the world.