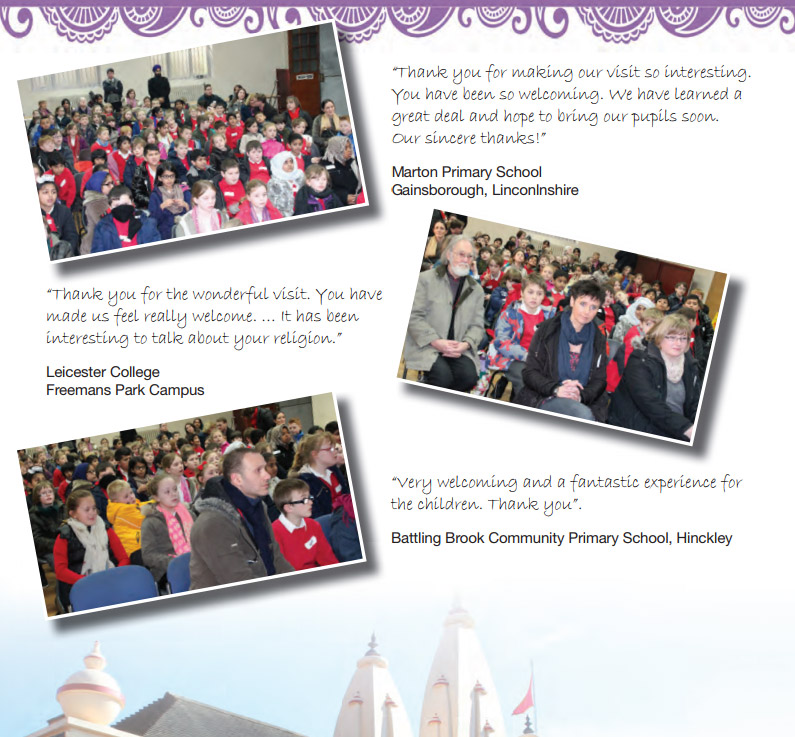 Book Your School Visit Today
School Visit Enquiry Form
We have regular visits from Schools from Leicester and all surrounding town and cities (including; Sheffield, Nottinghamshire, Derbyshire, Northamptonshire, Lincolnshire and Leicestershire).
We inform/educate the children about:
Hindu Religion/ Sanatan Dharam
The Dieties
Our Temple
Religious Ceremonies (such as Havan and Katha)
Our Religious Scriptures
Bhagvat Gita
Ramayan
Mahabharat
Vedas and why these are so important to us, what they mean to us.
What they thought about their visit to Shree Hindu Temple!
"Please can I thank you for an amazing visit. Our students were made to feel so welcome. It was a wonderful multi-sensory experience for them. They were mesmerized by your musicians. Thank you for making it a really worth while visit. I hope that I will be able to bring more groups in the future."
Annette Tatnell
Birchwood
Melton Mowbery
"Thank you for making our visit so interesting.
You have been so welcoming. We have learned a
great deal and hope to bring our pupils soon.
Our sincere thanks!"
Marton Primary School
Gainsborough
Linconlnshire
"Thank you for the wonderful visit. You have
made us feel really welcome. … It has been
interesting to talk about your religion"
Leicester College
Freemans Park Campus
Leicestershire