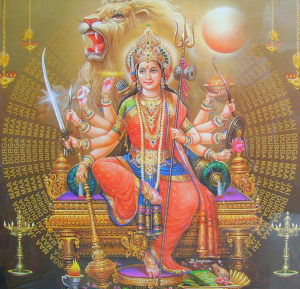 [Śhiv speaks] O Pārvatī, the One Who has a lotus-like face! I am telling You those one-hundred and eight names, by the means of which Durgā or Satī can be pleased.||1||
1) Satī, the daughter of Daksa
2) Sādhvī, the Sanguine
3) Bhavaprītā, loved by the universe
4) Bhavānī, the abode of the universe
5) Bhavamocanī, the absolver of the universe
6) Āryā
7) Durgā
8) Jayā
9) Ādyā, the beginning reality
10) Trinetrā, having three-eyes
11) Śūladhārinī, holding a monodent
12) Pinākadhārinī, Who holds the trident of Śhiv
13) Citrā
14) Candaghantā, having mighty bells¹
15) Mahātapā, with severe penance
16) Manas, mind
17) Buddhi, wisdom
18) Ahańkārā, pride
19) Cittarūpā, thought-state
20) Citā, death-bed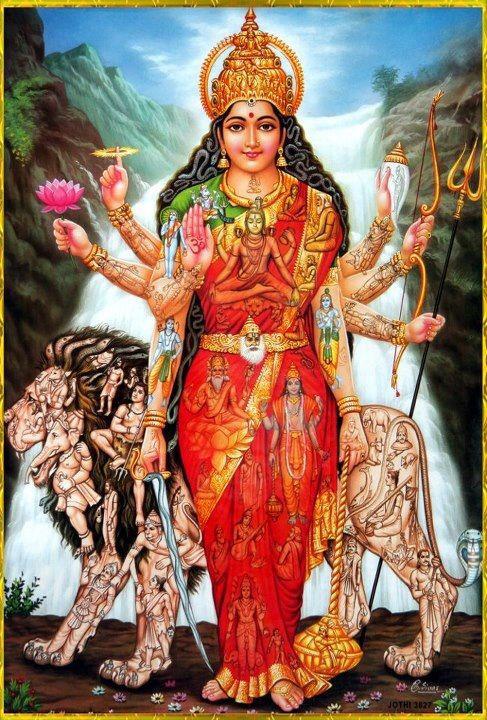 21) Citi, the thinking mind
22) Sarvamantramayī, possessing all the instruments of thought
23) Sattā, above all
24) Satyānandasvarūpinī, eternal bliss
25) Anantā, infinite or beyond measure
26) Bhāvinī, beautiful woman
27) Bhāvyā, future
28) Bhavyā, with splendor
29) Abhavyā, improper or fear-causing²
30) Sadāgati, always bestowing Moksa
31) Śāmbhavī, consort of Śambhu
32) Devamātā
33) Cintā, thoughts
34) Ratnapriyā, adorned or loved by jewels
35) Sarvavidyā, abode of knowledge
36) Daksakanyā, that is Satī, daughter of Daksa
37) Daksayajñavināśinī, destroyer of the sacrifice of Daksa³
38) Aparnā
39) Anekavarnā, having many complexions (for example: Kālī, Gaurī)
40) Pātalā, red in color
41) Pātalāvatī, wearing a red-color apparel
42) Pattāmbaraparidhānā, wearing a dress made of leather
43) Kalamañjīrarañjinī, wearing a melodious anklet
44) Ameyā, immeasurable
45) Vikramā, fierce
46) Krūrā, cruel (on demons)
47) Sundarī
48) Surasundarī
49) Vanadurgā
50) Mātańgī
51) Matańgamunipūjitā, prayed by Sage Matańga
52) Brāhmī
53) Māheśvarī
54) Caindrī
55) Kaumārc
56) Vaisnavī
57) Cāmundā
58) Vārāhī
59) Laksmī
60) Purusākrti, taking the form of a man
61) Vimalotkarsinī, providing joy
62) Jñānā
63) Kriyā
64) Nityā, eternal one
65) Buddhidā, bestower of wisdom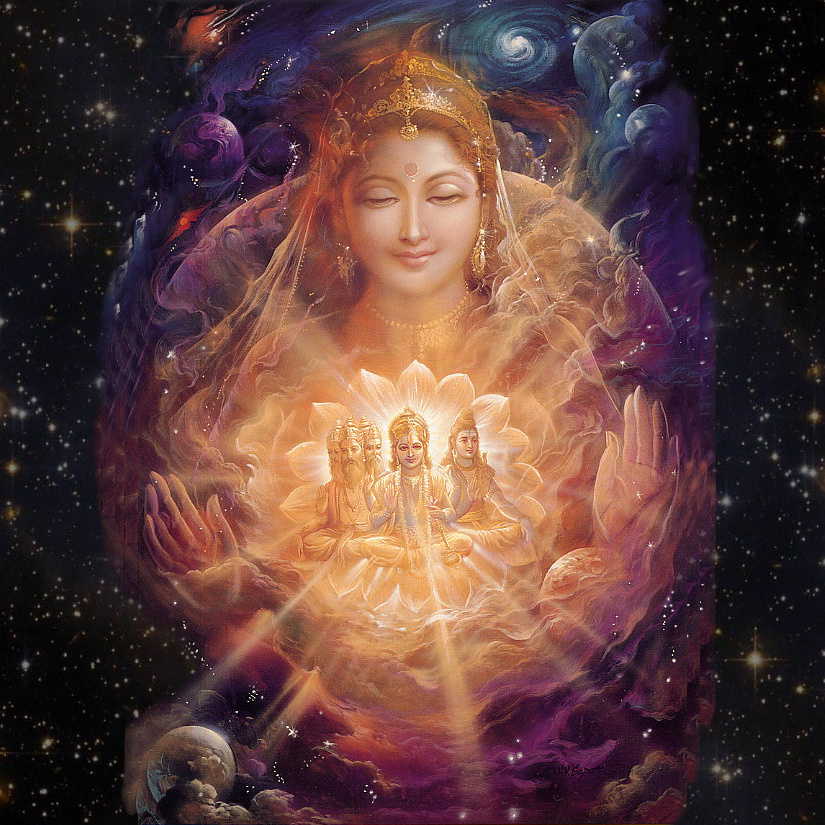 66) Bahulā, numerous in forms
67) Bahulapremā, generously benevolent
68) Sarvavāhanavāhanā, sits or rides all vehicles
69-72) Slayer of Śumbha and Niśumbha, Mahisāsura, Madhu and Kaitabha, and Canda and Munda
73) Sarvāsuravināśā, destroyer of all demons
74) Sarvadānavaghātinī, causes injury to all the demons
75) Sarvaśāstramayī, deft in all theories
76) Satyā
77) Sarvāstradhārinī, possessor of all the missile weapons
78) Anekaśastrahastā, possessor of many hand weapons
79) Anekāstrasya Dhārinī, possessor of many missile weapons
80) Kumārī
81) Ekakanyā
82) Kaiśorī
83) Yuvatī
84) Yatī
85) Apraudhā, who never gets old
86) Praudhā, who is old
87) Vrddhamātā, old mother (loosely)
88) Balapradā, bestower of strength
89) Mahodarī, gigantic abdomen which stores the universe
90) Muktakeśā, having open tresses
91) Ghorarūpā, having a fierce outlook
92) Mahābalā, having immense strength
93) Agnijvālā, poignant like fire
94) Raudramukhī, having a fierce face like universe-destroying Rudrā
95) Kālarātrī
96) Tapasvinī
97) Nārāyanī
98) Bhadrakālī
99) Visnumāyā
100) Jalodarī, abode of the ethereal universe
101) Śivadūtī
102) Karālī, fierce
103) Anantā, immeasurable
104) Parameśvarī
105) Kātyāyanī
106) Sāvitrī
107) Pratyaksā
108) Brahmavādinī

Those who daily read these 108 names from Durgā Stotram, find nothing impossible in the three worlds.||16|| They receive benefits like wealth, luxury, offspring and lineage, elephants, four things — dharma, artha, kaam, moksha, and in the end are liberated eternally.||17||
Having prayed and meditated upon Devī, Kumarī, and the Goddess of demi-gods, worship Her with devotion using this stotra.||18|| O Goddess! The king who prays in the above manner and attains perfection (siddhi), attains his kingdom, and splendor back from everyone including the demi-gods.||19||
Those who write a yantra (diagram) of this stotra with Gomūtra (literally cow's urine), Āltā (a red color pigment), Kuńkuma, Sindūra, Camphor, and Honey, and keep it in hand, becomes similar to Śiva [as a devotee].||20|| The one who writes and recites this eulogy during Bhauma new moon night attains every worldly luxury.||21||
Notes:
¹ In wars with demons, Pārvatī uses bell-clamor to disturb and create fear in Her opponents.
² The Kālikā form of Pārvatī is the fear-causing one.
³ According to an ancient story, Daksa performed a sacrifice without inviting Śiva, the consort of Satī. Not only that, Daksa, in front of his daughter Satī, accused and abused Śiva. Angry at this and dispassioned about Her birth from Daksa's body, Satī decided to destroy the sacrifice and take re-birth as Pārvatī. Since then She is called as Daksayajñavināśinī. This story can be found in many Purānas.
× Names 52) to 56) describe Goddess as compliment of Brahma, Śiva, Candra, Kārtikeya, and Visnu, respectively.
Poet: Mārkandeya
Source: Durgāsaptaśatī
Translator: Animesh Kumar