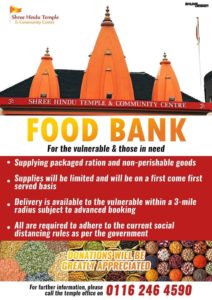 Shree Hindu Temple and Community Centre had been running a Food bank service for the vulnerable and those in need throughout the pandemic.
A big Thank You to all the volunteers, local businesses and charities who came together on every Thursdays and Sundays to pack 450 food parcels and deliver them to the doorstep of those in need.
Parcels loaded for delivery

Volunteers delivering parcels to shielding residents

One of our young volunteers who have been helping to deliver parcels in these difficult times.

A Volunteers repacking bulk items into small parcels

All the food that we either purchase or is donated by local community and business is help together to sorted and packed for individual parcels.e

The president Shitalbhai Adatia together with Mayurbhai Sisodia (Temple manager) and the local police service volunteering for the food bank delivery service

Our contribution has made a difference and recognised by the local authorities.