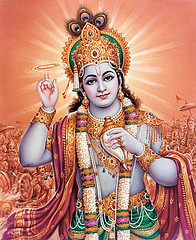 Shreemad Bhagvat Gyan Yagna
From Monday 5 October to Monday 12 October 2015
Daily 2pm til 6pm – Maha prasadi daily after evening Arti

Narrated by Acharya shree Chaganbhai Joshi
Bhojan Yajman: Swastik Traders (Green Lane Road, Leicester)
If you would like to place photos of your ancestors or would like to donate towards this auspicious event then please contact the Mandir office.
Everyone is invited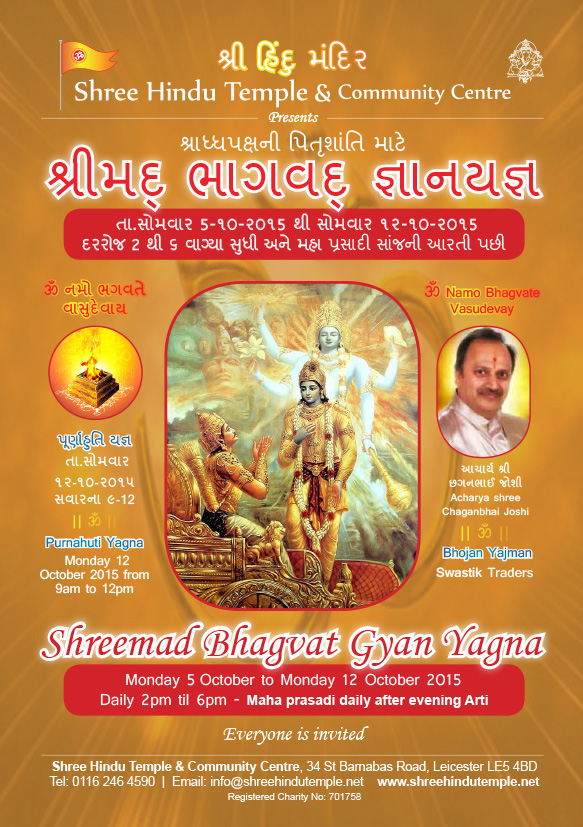 શ્રીમદ્ ભાગવદ્ જ્ઞાનયજ્ઞ
સ્થળ:  શ્રી હિંદુ મંદિર એન્ડ કોમ્યુનીટી સેન્ટર. લેસ્ટર
 વક્તા:   શ્રી છગન ભાઈ જોષી
પોથી યાત્રા :  તારીખ ૫.૧૦.૨૦૧૫ નારોજ બપોરના ૨ વાગ્યે મુખ્ય યજમાન ના ઘરે થી મંદિરે પધારશે
કથા શ્રવણ:    તારીખ 05-10-2015 થી 12-10-2015 સુધી
દરરોજ બપોરના ૨ થી ૬.૦૦  સુધી
 ભોજન પ્રસાદ:  કથા દરમ્યાન દરેક શ્રોતાજનોને  સાંજના ભોજન પ્રસાદી લેવા આગ્રહ ભરી વિનંતિ છે.
વધુ માહિતી માટે મંદિરની ઓફીસમાં મળો અથવા ફોન કરો  ૦૧૧૬ ૨૪૬૪૫૯૦ 
માંગલિક પ્રસંગો શુભ પ્રસંગો
દૈનિક યજમાન                  £ ૨૧
સાત દિવસ યજમાન          £ ૧૦૧
રામજન્મ યજમાન             £ ૧૦૧
કૃષ્ણજન્મ યજમાન            £ ૧૦૧
રુકમણીજીવિવાહ યજમાન     £ ૧૦૧
એક દિવસ ભોજન યજમાન    £ ૧૦૧ 
હવનયજ્ઞ:  સોમવાર તા. ૧૫-૧૦-૨૦૧૫ ૪-૬ વાગ્યા સુધી