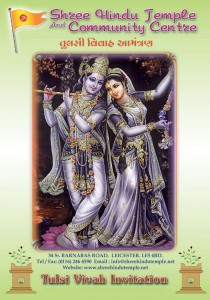 Tulsi Vivah 2014 – Vikram Samvat 2071
Shree Hindu Temple would like to invite all devotees to 1st wedding of Vikram Samvat 2071.
Wedding: Sunday 2 November 2014 at Mandir from 11.30am
Venue: Shree Hindu Temple and Community Centre, 34 St Barnabas Road, Leicester, LE5 4BD
This year Jaan will be arriving from Shree Shakti Mandir, Leicester. Hence the wedding date has been moved to accommodate all our guest from Shakti Mandir.
All devotees are invited.