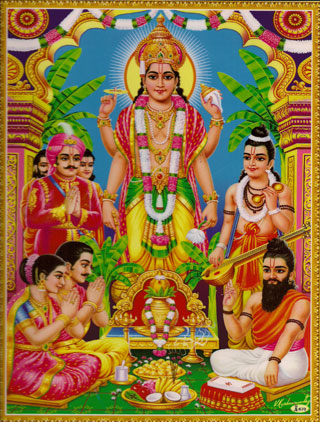 Shree Hindu Mandir (Temple) has organised samuh Satyanarayan Katha on Saturday 18th August 2012 from 3pm onwards.
If you would like to be yajman (take part in the ceremony) then it's only £15, this will include everything you require for the ceremony. Please contact the office to register as there are only limited spaces available.
Date: Saturday 18-08-2012
Time: 3pm til 6pm
Please bring:
1) Shree Satyanarayanji Murti
2) Shree Ganeshji Murti
3) Coconut, Fruit & Flowers
Please contact office to register your interest. For more information email us on info@shreehindutemple.net or call us on 0116 246 4590
———————————
શ્રી સત્યનારાયણ કથા
સર્વે ભક્તોને જણાવવાનું કે શ્રીપુરષોત્તમ માસ સુદ એકમનાં શુભ દિવસે સમૂહ "શ્રીસત્યનારાયણકથા" નું આયોજન કરેલ છે.
તારીખ:૧૮/૦૮/૨૦૧૨ શનિવાર 
સમય :૩ થી ૬
યજમાન થવા માટે શ્રી હિંદુ મંદિર ની ઓફિસ નો સંપર્ક કરશો
ફોન નંબર. ૦૧૧૬ ૨૪૬ ૪૫૯૦
સાથે લાવવા ની વસ્તુ :
(૧) શ્રી સત્યનારાયણ ભગવાન ની મૂર્તિ
(૨) શ્રીફળ, ફૂલ, શ્રીગણેશજી ની મૂર્તિ
માત્ર પાઉન્ડ ૧૫.૦૦ બેવ્યક્તિનાં.