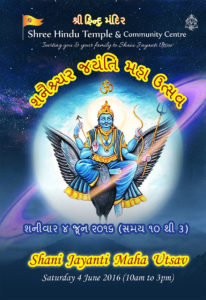 With blessings of Shree Krishna, Ganeshji and Mataji, it is with great joy and pleasure to invite you and your family to Shani Jayanti Ceremony at the Shree Hindu Temple.  This auspicious ceremony will take place on Saturday 4th June 2016 from 10:30am to 3pm.

Ceremony Schedule
10.30am

Shree Ganesh Pujan

11:30am to 12:00pm

Brahmin Blessings and Nandi Sradh

12:15pm to 1:45pm

Shani Mahapuja and Jaap Anusthaan

2:30pm to 3pm

Purnahooti, Thal, Aarti
There will be a special cake cutting ceremony to mark Shani Dev's Birthday!

Thereafter

Maha Prasadi
To take part in this ceremony £25 donation

 

will be required.
You will be required to bring; Hand Napkins, Two Towels, Cushion to sit on
and 100 grams of Dates.
It is important that you sit in this pooja with a male person from your family
All  other pooja samagri will be provided by the Temple
Please submit your names and donations through Temple office or by any of the Temple's Bhudevs. Alternatively call the Mandir office on 0116 2464590 or Mayurbhai Sisodia on 07931744679 as soon as possible.