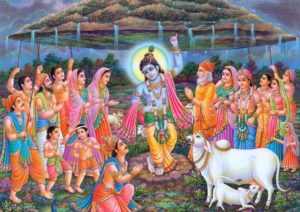 To save his followers from the fury of rain god, Indra, Lord Krishna lifted the Goardhan Parvat (mountain) on his little finger for seven days. He didnt't eat any thing during that period.
Since lord Krishna used to have 8 meals a day so after 7 days all the devotees offered 56 (7×8) kinds of food to Lord Krishna. Even today, day after diwali is celebrated as 'Goardhan Pooja' and Goardhan mountain is worshipped .
During the worship 56 kinds of food is prepared and offered to Lord Krishna. This special food is called "Annakut". The Bhog also needs to be arranged in a definite sequence; Milk products arranged the closest to Him. This is followed by Besan items and then the salty food. At the end illachi is offered.
7 types of cereals
7 types of fruits
7 types of dryfruits
7 vegetables
7 sweets
7 drinks
7 namkeen
7 sauces or pickles
in another variation one offer
16 kinds of namkeen'
20 kinds of sweets
20 kinds of dry fruit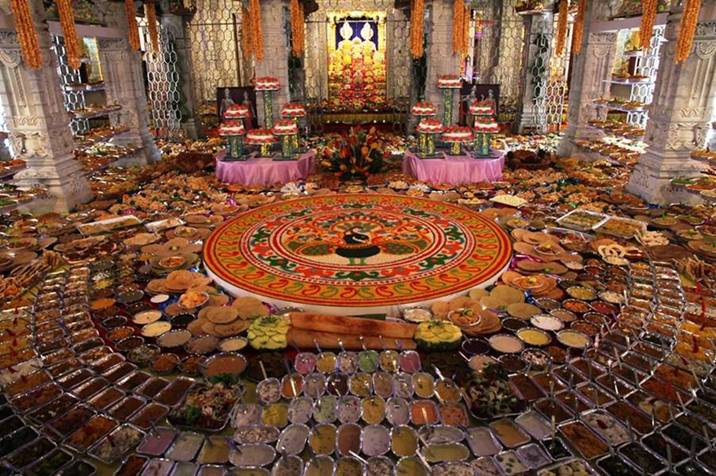 Here is the list of 56 items which are offered with some variations in different part of the world.
1) Saag( Spinach)
2) Dahi (curd)
3) kheer ( sweet rice and milk)
4) Chawal (rice)
5) Rasgulla
6) Rabri
7) Mathi
8) Daal
9) Chutney
10) Kadi
11) Malpuda
12) murabba
13) Shakkarpaara
14) Ghewar
15) Chila
16) Jalebi
17) Papad
18) Dalia
19) Laddoo
20) Ghee
21) honey
22) Mohanbhog
23) Mathha
24) Lassi
25) Butter
26) Malai
27) Moong Dal Ka Halwa
28) Khichadi
29) Pakode
30) Brinjal
31) Lauki
32) Coconut chutney
33) Poori
34) Kachori
35) Roti
36) Badam Milk
37) Coconut water
38) Mango
39) Banana
40) Shkanjvi
41) Grapes
42) Apple
43) Plum
44) Cashew nuts
45) Almonds
46) Raisins
47) Pistachios
48) Channa
49) Tikki
50) Sweet Rice
51) Bhujia
52) Pudina Chutney
53) Saunf
54) Paan
55) Supaari
56) Illaichi