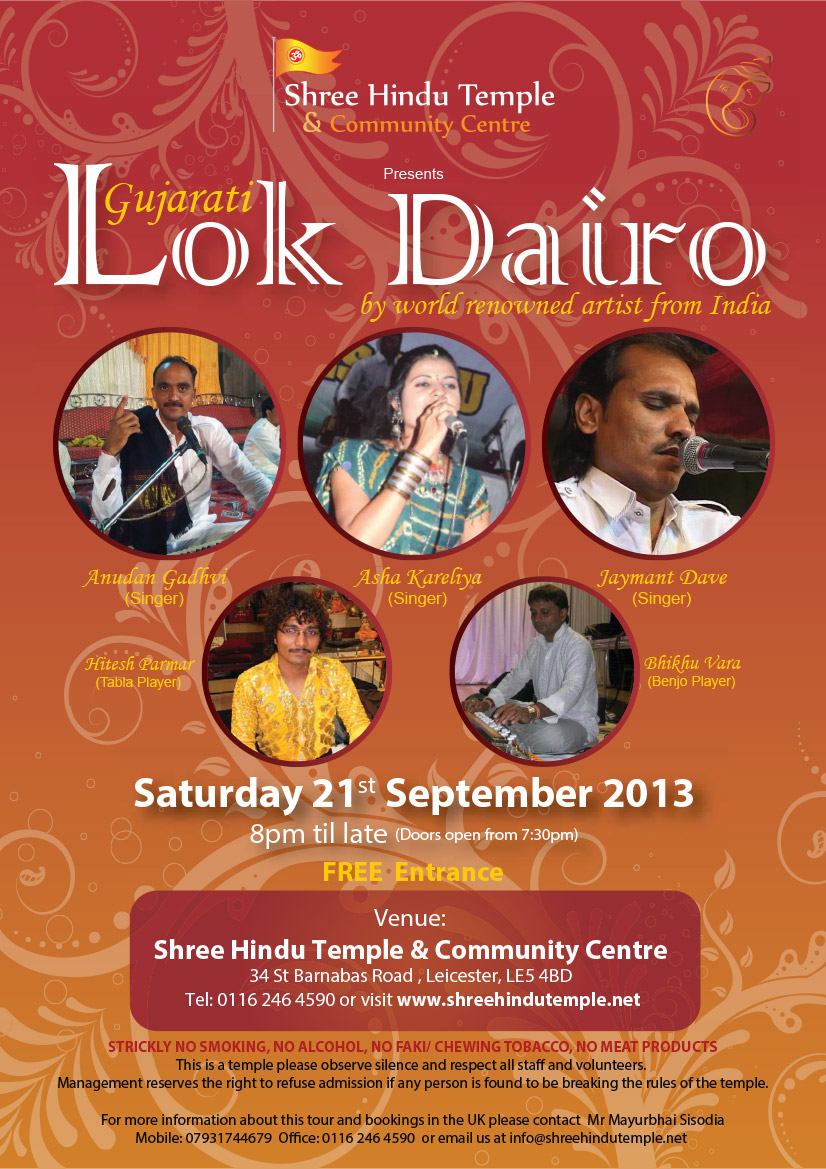 Shree Hindu Temple and Community Centre
Presents
Gujarati Lok Dairo by world renowned artist from India.
Anudan Gadhvi (Singer), Asha Kareliya (Singer), Jaymant Dave (Singer), Hitesh Parmar (Tabla Player), Bhikhu Vara (Benjo Player)
Date: Saturday 21st September 2013
Time: 8pm til late
Entrance is free to all devotees
Venue:
Shree Hindu Temple & Community Centre
34 St Barnabas Road
Leicester
LE5 4BD
Tel: 0116 246 4590
STRICKLY NO SMOKING, NO ALCOHOL, NO FAKI/ CHEWING TOBACCO, NO MEAT PRODUCTS
This is a temple please observe silence and respect all staff and volunteers. Management reserves the right to refuse admission if any person is found to be breaking the rules of the temple.
For more information about this tour and bookings in the UK please contact Mr Mayurbhai Sisodia Mobile: 07931744679 Office: 0116 246 4590 or email us at info@shreehindutemple.net
શ્રી હિંદુ મંદિર દ્વારા આયોજીત લોક ડાયરો
ભારત થી પધારેલ કલાકારો નો ભવ્ય લોક ડાયરો
સ્થળ- શ્રી હિંદુ મંદિર તારીખ – સનિવાર ૨૧ /૦૯ /૨૦૧૩
સમય સાંજ ના ૮ થી ૧૨