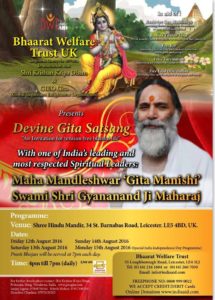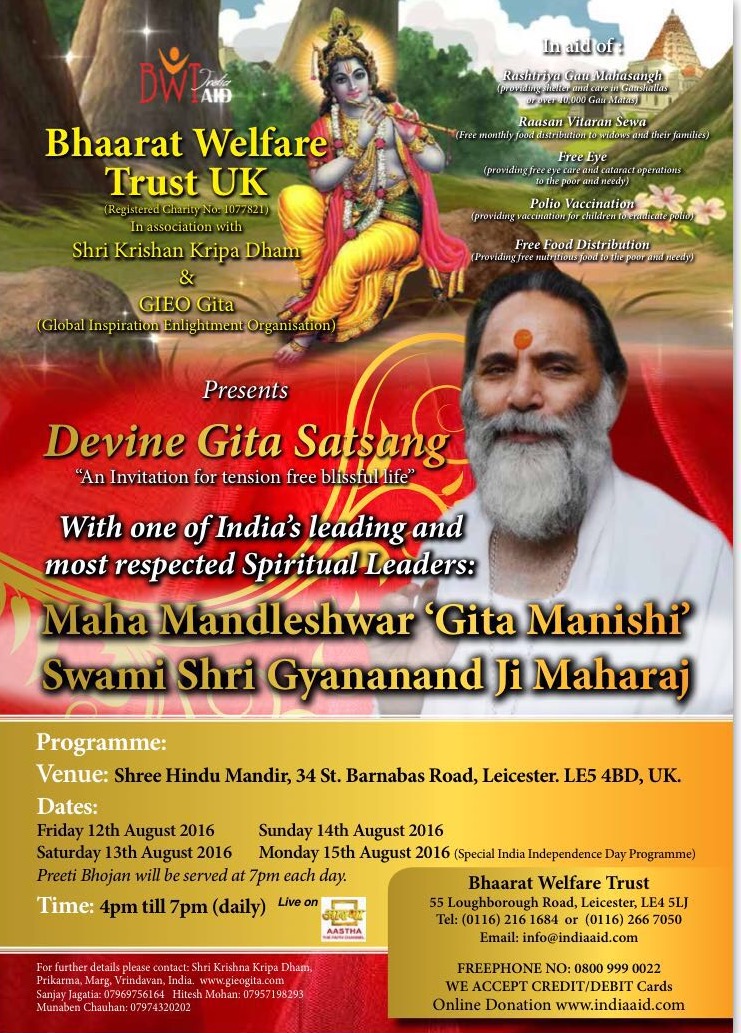 "Divine Gita Satsang – an invitation for tension free and blissful blessed life"
By one of India's leading and most respected Spiritual Leaders – His Holiness 'MahaMandleshwar 'Gita Manishi' Swami Shri Gyananand Ji Maharaj of Vrindavan India.
Dates: Friday 12th, Saturday 13th, Sunday 14th and Monday 15th August 2016
Time: 4pm till 7pm daily (Thereafter to Preeti Bhojan)
Venue: Shree Hindu Mandir, 34 St Barnabas Road, Leicester, LE5 4BD
LIVE ON AASTHA TV
* Special programme for India Independence Day on Monday 15th August 2016.
Organised by Bhaarat Welfare Trust in association with Shri Krishna Kripa Pariwar UK, GIEO Gita and Shree Hindu Mandir Leicester.
---
About Maha Mandleshwar 'Gita Manishi' Swami Shri Gyananandji Maharaj (Founder of Krishna Kripa Pariwar & G.I.E.O. Gita): 
Swami Shri Gyananand Ji Maharaj is founder of Shri Krishna Kripa Dham in Mathura (Vrindavana), India. He is the visionary behind " GIEO GITA "(An organisation committed to spread messages of the Bhagavad Gita for the upliftment of mankind).
A portent of harmony and harbinger of love, Swami Shri Gyananand Ji Maharaj (Gurudev) is a pedagogue, a philosopher, a guide, a writer, a yogi and a social server. His books and lectures on ethics, values and the Bhagavad Gita have become a chaperon to many. Along with myriad ways in which he has tried to help the society, his efforts augur a virtuous generation of driven countrymen with a clear direction in life. He has simplified verses of the Gita to make it a Melody of life. A profound scholar of The Bhagavad Gita, Swami Ji through his lecture & literature is making his vision to live Gita (Gieo Gita) – A realisation. His latest book " Bhagvad Gita-A blissful global inspiration" is a light house for thousands of seekers. Standing amidst the crowd but still apart from it, serving mankind selflessly and inspiring others to do so, enlightening thousands of lives are few of the finest qualities that Swami Ji is blessed with.
Swami Shri Gyanandji Maharaj has made spirituality a way of living. Distribution of free monthly food to widows , organising polio operation camps, educating children in remote rural areas, establishment of cow homes (Gaushala), free eye operations from locations across Northern India as well as offering free medical services to saints of Vrindavan are only glimpses of noble deeds that are a part of his mission. His commitment to serve God by serving mankind is exemplary.
Lord Sri Krishna said: "One who knows the transcendental nature of My appearance and activities does not, upon leaving the body, takes his birth again in this material world, but attains My eternal abode. O Arjuna" – Bhagavad-gita 4 -9.
For further details please contact:
Bhaarat Welfare Trust: 01162161684
Sanjay Jagatia: 07969756164
Hitesh Mohan: 07957198293
Muna Chauhan: 07974320202