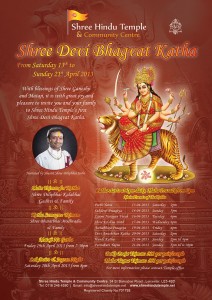 This year's biggest event at the Shree Hindu Mandir/ Temple is Shree Devi Bhagvat Katha
From Saturday 13th to Sunday 21st April 2013
Katha starts at 2pm til 6pm daily, Maha Prasadi from 7pm
With blessings of Shree Ganeshji and Mataji, it is with great joy and pleasure to invite you and your family to Shree Hindu Temple's first Shree Devi Bhagvat Katha.
Main Yajman for Katha:  Shree Dilipbhai Kalabhai Gadhvi & Family
Shree Devi Bhagvat Katha narrated by Shastri Shree Dilipbhai Joshi
Katha Samagree Yajman:  Shree Bharatbhai Modhvadia & Family
Main Events of the Katha
Pothi Yatra 13-04-2013 Saturday 2pm
Sukdevji Praagtya 14-04-2013 Sunday 5pm
Laxmi Narayan Vivah 16-04-2013 Tuesday 6pm
Shree Krishna Birth 17-04-2013 Wednesday 6pm
Asthabhuja Praagtya 19-04-2013 Friday 6pm
Devi Anushthan Katha 20-04-2013 Saturday 2pm
Hundi Katha 21-04-2013 Sunday 2pm til 4pm
Purnahuti Yagna 21-04-2013 Sunday 5pm til 6:30pm
Mataji Na Garba
Friday 19th April 2013 from 7:30pm
Lok Dairo & Jagran Night
Saturday 20th April 2013 from 8pm
Daily Pooja Yajman: £11 per pair/couple
Maha Yagna Yajman: £51 per pair/couple
For more information please contact Temple office
Venue:
Shree Hindu Temple & Community Centre
34 St Barnabas Road , Leicester, LE5 4BD
Tel: 0116 246 4590 | Email: info@shreehindutemple.net
શ્રી દેવી ભાગવત કથા
તા. ૧૩ થી ૨૧/૦૪/૨૦૧૩
કથા દરરોજ ૨ થી ૬ મહાપ્રસાદી સાંજે ૭ વાગ્યે
પરમ ભગવદીય ભક્તજનો આપસૌને જણાવતા અતિ આનંદ થાયછે કે પરમ કૃપાળુ પરમાત્માની અને શ્રી ગણેશજી તથા માતાજી ની અનન્ય કૃપાથી આપણા શ્રી હિન્દુ મંદિર માં પ્રથમવાર શ્રી દેવી ભાગવત કથાનું આયોજન કરેલ છે,
જેમાં વ્યાસપીઠ પર આચાર્ય શાસ્ત્રી શ્રી દિલીપભાઈ જોશી બિરાજી અને અમૃતવાણી નો લાભ આપશે તો સૌ ભકતજનોને હાર્દિક આમંત્રણ છે.
કથાના મુખ્ય યજમાન: શ્રી દિલીપભાઈ કલાભાઈ ગઢવી પરિવાર
કથા સામગ્રી યજમાન: શ્રી ભરતભાઈ મોઢવાડિયા પરિવાર
કથા માં આવતા પ્રસંગોની યાદી
પોથી યાત્રા ૧૩-૦૪-૨૦૧૩ શનીવાર ૨ વાગ્યે
શુકદેવજી પ્રાગટ્ય ૧૪-૦૪-૨૦૧૩ રવિવાર ૫ વાગ્યે
લક્ષ્મીનારાયણ વિવાહ ૧૬-૦૪-૨૦૧૩ મંગળવાર ૬ વાગ્યે
શ્રી કૃષ્ણજન્મ ૧૭-૦૪-૨૦૧૩ બુધવાર ૬ વાગ્યે
અષ્ઠભુજા પ્રાગટ્ય ૧૯-૦૪-૨૦૧૩ શુક્રવાર ૬ વાગ્યે
દેવી અનુષ્ઠાન કથા ૨૦-૦૪-૨૦૧૩ શનીવાર ૨ વાગ્યે
હૂંડી કથા ૨૧-૦૪-૨૦૧૩ રવિવાર ૨ થી ૪
પૂર્ણાહુતિ યજ્ઞ ૨૧-૦૪-૨૦૧૩ રવિવાર ૫ થી ૬:૩૦
માતાજી ના ગરબા
૧૯-૦૪-૨૦૧૩ શુ્વાર સાંજે ૭:૩૦ વાયે
લોક ડાયરો & જાગરણ
૨૦-૦૪-૨૦૧૩ શનીવાર સાંજે ૮ વાયે
દરરોજ સવારે પૂજામાં બેસવામાટે £૧૧ અને યજ્ઞમાં બેસવામાટે £૫૧
વધારે માહિતી માટે મંદિરની ઓફીસનો સંપકૅ સાધશો.