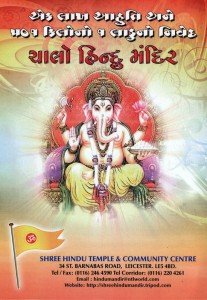 "Aum Gam Ganpataye Namaha"
It is with great joy and pleasure to inform you that due to Lord Ganeshji and Gooddess Saraswati's blessings that the Trustees and Management Committee Members wish to invite you and your family members to Shree Hindu Temple's first ever "Shree Ganesh Puran Bhagwat Saptah".
This auspicious occasion will be marked by offering one Ladoo weighing 501 kg. to Lord Ganeshji on the first day of Saptah. This is a unique occasion and we request you not to miss this A Truly Memorable and Wonderful Moment.
PROGRAMME: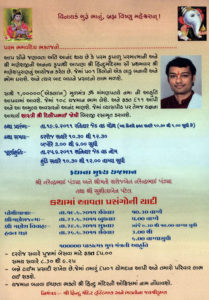 Katha starts on Jetth Vad Chauth – Sunday 19th June 2011
Katha ends on Jetth Vad Nom – Saturday 25th June 2011
Katha recitation times – 10.30 am – 12.30 pm and 3.00 pm – 6.00 pm
Pothi Yatra – Sunday 19th June 10.30 am from Kitchener Road to Hindu Temple
Shree Ganesh Janam Mahotsav – Wednesday 22 – 06 – 2011 at 5.00 pm
Shree Ganesh Vivah – Friday 24 – 6 – 11 at 7.30 to 10 pm
Shree Ganesh 108 Yajman Maha Yagna – Sunday 26 – 06 – 2011 3.00 pm to 6.00 pm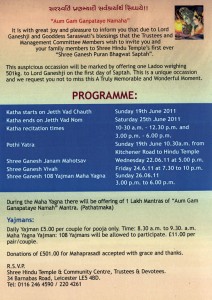 During the Maha Yagna there will be offering of 1 Lakh Mantras of "Aum Gam Ganapataye Namah" Mantra. (Pathatmaka)
Yajmans:
Daily Yajman £5.00 per couple for pooja only. Time: 8.30 a.m. to 9.30. a.m.
Maha Yagna Yajman: 108 Yajmans will be allowed to participate. £11.00 per pair / couple.
Donations of £501.00 for Mahaprasadi accepted with grace and thanks.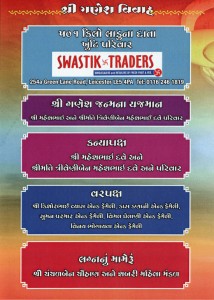 R.S.V.P.
Shree Hindu Temple & Community Centre, Trustees & Devotees.
34 Barnabas Road, Leicester LE5 4BD.
Tel: 0116 2464590 / 2204261