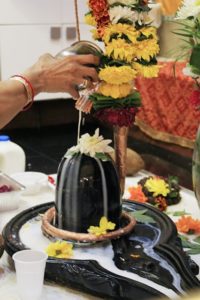 Shiv Pujan for Children
Bank Holiday Monday 26th August 2013 from 2pm to 4pm
Shree Hindu Temple has organised a special children's only Shiv Pujan & Rudrabhishek on Bank Holiday Monday 26th August 2013 from 2pm to 4pm.
FREE to take part in this ceremony, simply register your child's details in the mandir office. All pooja samagri will be provided.
All devotees are welcome
Tel: 0116 246 4590 or email us info@shreehindutemple.net
શિવ પૂજન બાળકો માટે
સોમવાર ૨૬ ઓગસ્ટ ૨૦૧૩ – ૨ થી ૪ વાગ્યા સુથી
પવિત્ર શ્રી શ્રાવણ માસ દરમિયાન શ્રી હિંદુ મંદિર દ્વારા સોમવારે ૨૬ ઓગસ્ટ ૨૦૧૩ સમય ૨ થી ૪ વાગ્યા સુથી બાળકો માટે શિવ અભિષેક રાખેલ છે. દરેક ભાવિક ભક્તો ને પોતાના બાળકોને અભિષેક માં બેસવા માટે આપનું નામ મંદિરની ઓફીસમાં લખાવશો. પુજાની બધી સામગ્રી મંદિર આપશે.
દરેક ભાવિક ભક્તો ને આમંત્રણ
ૐ નમઃ શિવાય