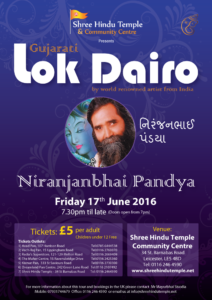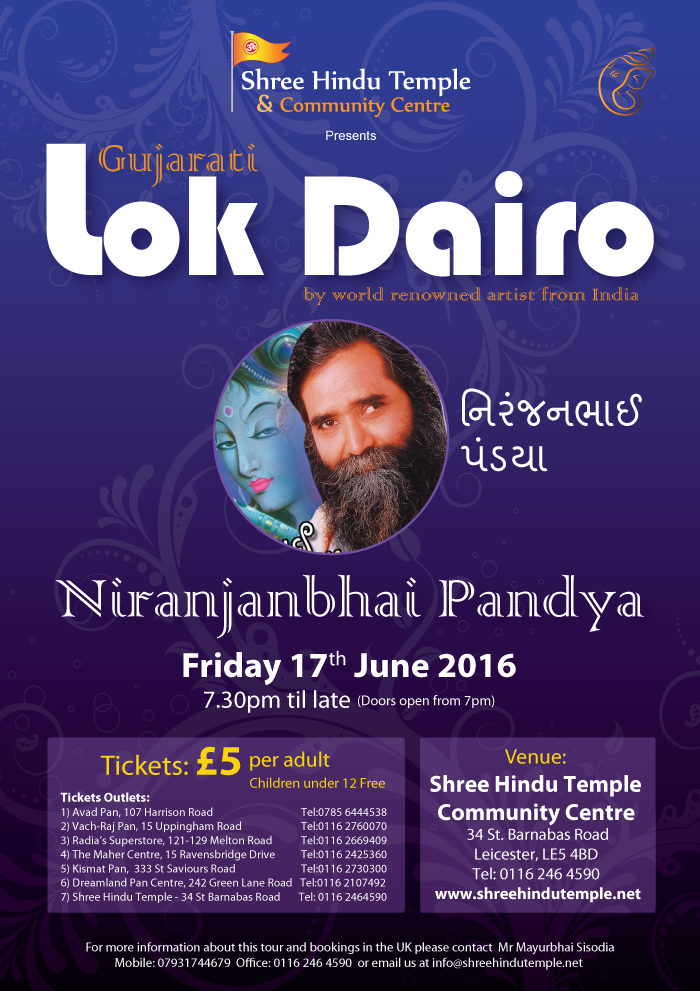 Shree Hindu Temple and Community Centre presents Gujarati Lok Dairo and Bhajans on Friday 17 June 2016 from 7:30pm til late.
Artist: Niranjan Pandya from India along with guest musicians and artist will entertain in an unique Khathiyavadi style.
Come and join us for an evening of music and mystic.
Tickets: £5 for Adults (free for children under 12)
Venue:  Community Centre at Shree Hindu Temple, 34 St. Barnabas Road Leicester, LE5 4BD Tel: 0116 246 4590
Tickets Outlets:
1) Avad Pan, 107 Harrison Road – Tel:0785 6444538
2) Vach-Raj Pan, 15 Uppingham Road – Tel:0116 2760070
3) Radia's Superstore, 121-129 Melton Road – Tel:0116 2669409
4) The Maher Centre, 15 Ravensbridge Drive – Tel:0116 2425360
5) Kismat Pan, 333 St. Saviours Road Road – Tel:0116 2661062
6) Dreamland Pan Centre, 242 Green Lane Road – Tel:0116 2730300
7) Shree Hindu Temple – 34 St Barnabas Road – Tel: 0116 246 4590
For more information about this tour and bookings in the UK please contact Mr Mayurbhai Sisodia Mobile: 07931744679 Office: 0116 246 4590 or email us at info@shreehindutemple.net