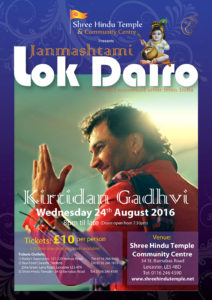 Shree Hindu Temple and Community Centre presents Janmashtami special, Gujarati Lok Dairo and Bhajans on Wednesday 24 August 2016 from 8pm til late.
Artist: Kirtidan Gadhvi from India along with guest musicians and artist will entertain in an unique Khathiyavadi style.
Come and join us for an evening of music and mystic.
Tickets: £10 for per person or £20 for front row
Venue:  Community Centre at Shree Hindu Temple, 34 St. Barnabas Road Leicester, LE5 4BD Tel: 0116 246 4590
Tickets Outlets:
1) Radia's Superstore, 121-129 Melton Road Tel: 0116 266 9409
2) Ravi Food (Swastik Traders) Tel: 0116 246 1819 254a Green Lane Road, Leicester LE5 4PA
3) Shree Hindu Temple – 34 St Barnabas Road Tel: 0116 246 4