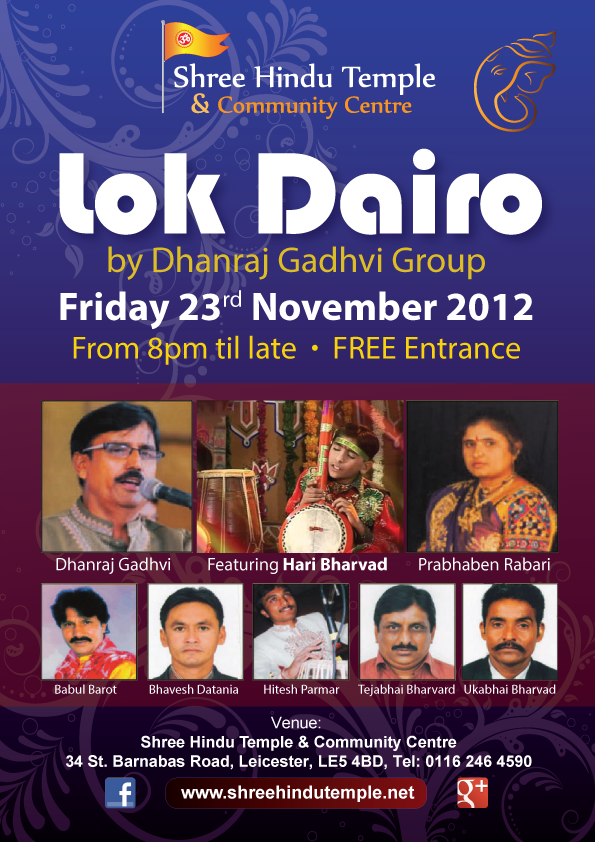 Shree Hindu Temple and Community Centre has organised a Gujarati Lok Dairo and Kathiyavadi Lok Sahitiya.
Artist: Dhanraj Gadhvi, Hari Bharwad, Prabhaben Rabari, Babulal Barot, Bhavesh Dantani, Hitesh Parmar, Tejabhai Bharward, Ukabhai Bharwad (all from India)
Date: Friday 23rd November 2012
Time: 8pm til late
Venue: Shree Hindu Temple & Community Centre, 34 St. Barnabas Road, Leicester, LE5 4BD Tel: 0116 246 4590
For more information please visit www.shreehindutemple.net
FREE ENTRANCE
Please note this is a Mandir, NO ALCOHOL, NO SMOKING, NO FAKI or any other chewing tobacco.
Management reserves the right to refuse entrance.
શ્રી હિંદુ મંદિર દ્દ્રારા આયોજીત લોક ડાયરો શુક્રવારે તારીખ ૨૩/૧૧/૨૦૧૨ સાંજ નાં  ૮ થી
ભજન સંધ્યા,સંતવાણી,લોકસાહિત્ય, તેમજ પ્રાચીન ભજનો નો કાર્યક્રમ હશે. તો સર્વ ભાવિક ભક્તો ને જાહરે આમંત્રણ છે.
કલાકાર :ભારત થી પધારેલ